I am writing this during what has been an absolutely beautiful summer like week that we have all just experienced. Amazing, glorious and appreciated for the middle of September. And as much as I am enjoying it, I cannot avoid the reality that Fall is nearly upon us as the daylight grows shorter and shorter and the cooler weather and frost is at our doorstep.
For me there are three things I dislike about Fall.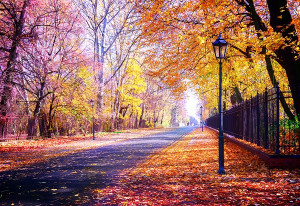 • It signifies the beginning of Winter. ( I don't like winter)
• It signifies the end of the golf season. (Why I don't like winter)
• It signifies my beloved Hummingbirds leaving and starting their migration south.
• It is a lot of work to keep up with the leaves, get rid of the annuals, cut back the perennials, wash and put away all the outside summer stuff such as lawn furniture, garden tools, the lawnmower, barbecue, shut off the water and essentially prepare your home for the onslaught of winter. Yikes, now I'm feeling a little overwhelmed.
The good news for me personally is as much as I hate the fact that winter is imminent, I love being outdoors and take great pride to ensure my home is ready.
But what if you simply do not have the time or the desire or perhaps the ability to get your house ready for the Winter?
Imagine looking out your window on a beautiful sunny crisp Autumn day, knowing that the leaves blowing everywhere are no longer a problem you need to worry about? Or frolicking in the leaves with your kids or grandkids, all the time knowing the mess of leaves that for now are providing so much amusement and joy is no longer your concern to clean up?
Silver Fox Concierge LTD. was born from our passion and love for people and helping them. Our mission is to give you the "Luxury of Time" so that you are able to focus on the things that are truly important to you!
Fall is indeed a beautiful time of the year but it is also a lot of work. Let Silver Fox Concierge Ltd. enable you to enjoy the beauty but not the work!
Enjoy the Fall
Michael C. Brown